It has been 3 exciting weeks so far for participants of Practically's first-ever Summer Workshop. Whether it's learning to write code for Catching Apples Game, about Game Engine and how a Game Engine works, audio, video, and editing tools required to create high quality and viral videos on YouTube, the architecture of IoT Applications, basics of chess and rules of the game, astronomy, refresher modules on foundational math concepts and a lot more, students have been busy enjoying Practically's Summer Workshop! They have also been making a whole lot of new friends from across the country and learning from the best of teachers in their fields!
But it's the summer holidays, why should you spend your time learning online workshops for students Practically?! Participants from across courses have shown such enthusiastic response to the workshop, so to make this worth your while even more, we are giving away free online workshop with certificates and Bumper Prizes up to Rs. 20 lacs! So, in addition to picking up some new and cool skills and tricks for when you go back to school, 10 winners from each course will win:
Bumper Prizes
Gifts
Course
Exclusive Practically


Hamper with official




merchandise

YouTube Premium 90Days subscription + 500 XPs*
YouTube Pro
Exclusive IIT Guwahati Certificate +1000 XPs
Robotics
6 Months Superhero Subscription
Math & Science Beyond Books
6 Months Legend Subscription on the Practically App
Scratch Programming
1 Year Unity Pro License + 1000 XPs on the Practically App
Gaming With Unity
Magnetic chessboard
Chess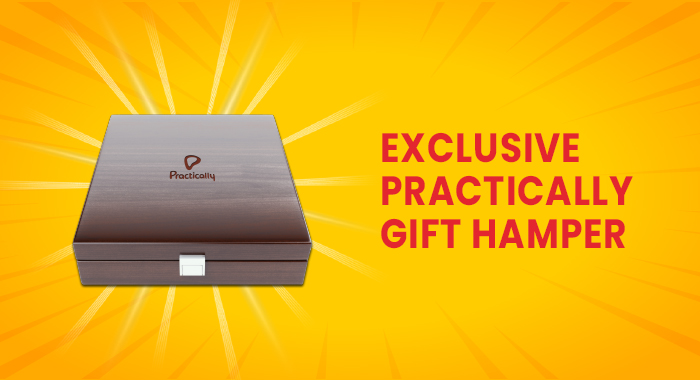 Attend first class & get XPs worth Rs. 50/-
25% attendance & get XPs worth Rs. 100/-
60% attendance & get XPs worth Rs. 200/-
80% attendance makes you eligible for Bumper Prize + XPs worth Rs. 300/-
Daily rewards for five students from each course, who ask the best questions in the sessions, and will also be recognized on Practically's in-app leader board!
The excitement doesn't end there! Vidit Gujarathi, India's chess team captain will be hosting a special online chess training session and sharing his success story and some secrets. For more details on this and other guest sessions conducted by pros in their fields, exclusively on Practically, subscribe to our social media pages today. You don't want to miss these!
What makes the courses on Scratch Programming, YouTube Pro, Chess, Gaming with Unity, Math & Science Beyond Books and Robotics at Practically's Summer Workshop all the more interesting, is that they are available FREE of cost on the Practically app! And it doesn't end there. You can still register for multiple courses like robotics workshop online free, YouTube workshop online and more and catch up with the recorded sessions on the app and on our official YouTube channel. So what are you waiting for? Hurry up and grab the limited seats left.
Sign up for free NOW and be part of a refreshing and rewarding Practically summer workshop. In addition to all these prizes, join the online workshops with certificates for all courses! Come Learn Practically and Bring Learning Alive this summer!
*XPs can be redeemed on the Practically app from 30th June 2021 onwards. All prizes will be announced and dispatched by 30th July 2021.
#PracticallyApp #LearnPractically #BringLearningAlive #Prizes #FreeWorkshops #SummerWorkshops #OnlineWorkshops #YouTubeWorkshop #RoboticsWorkshop #GamingWorkshop #ChessOnline #MathOnline #ScienceOnline