Most of us have watched or heard of popular movies like Terminator, Wall-E, Robocop and Transformers. These are only some of the most famous movies with robots in them. But outside of fiction, our daily lives are filled with robots too. Don't believe it? How does a new-age vacuum cleaner change direction when it's about to hit a wall? Surgical robots are already being used to perform precise and accurate medical procedures not possible by humans. Autonomous vehicles such as self-driving cars and drones are being developed widely and will soon become a reality. Robots are only growing in relevance in our lives and with time, will become more sophisticated and important for everyone to understand as we live with them.
With growing demand for STEM talent for development of robots, it's important that the next generation can pick up skills required to be relevant in the future. That's why Practically offers a variety of classes and workshops that kids can enjoy and use to build a solid foundation for their careers.
The exclusive Robotics course starting 4th May 2021, in association with Robotics club, IIT Guwahati gives students the opportunity to dive deep into the world of robotics and automation engineering. Explore how computer programming and robot design can be interesting and solve problems in the real world. But first, let's understand what Robotics is.
What is Robotics?
Robotics is a STEM subject that includes constructing, operating, designing, developing and applying codes that will make a robot function. In simple language, it is a method of control over machines to help substitute for (or replicate) human actions.
Benefits of learning robotics
Not only do robotics courses help to establish science, technology, engineering, and math concepts, they also work to build on students' team-building skills as they work to complete fun challenges together. These collaborative skills are essential for success, no matter what subject they choose to pursue in the future.
Many other advantages include:
Improved creative thinking skills
Improved social skills
Improved problem-solving skills
Improved computer programming skills
Sophia: the most famous robot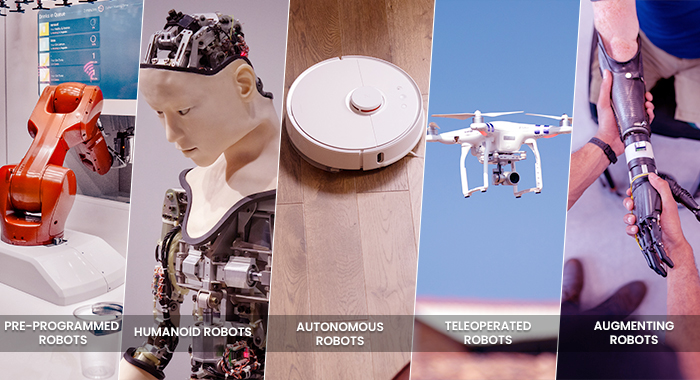 Robots are classified into five categories:
Pre-Programmed Robots: Pre-programmed robots operate in a controlled environment where they do simple, monotonous tasks.
Humanoid Robots: Humanoid robots are robots that look like and/or mimic human behavior. Sophia, one of the most famous social humanoid robots in the world was developed by a Hong Kong-based company, Sophia was activated on February 14, 2016. In October 2017, Sophia "became" a Saudi Arabian citizen, the first robot to receive citizenship of any country. In November 2017, Sophia was named the United Nations Development Programme's first ever 'Innovation Champion' and is the first non-human to be given any United Nation title.
Autonomous Robots: Autonomous robots operate independently of human operators.
Teleoperated Robots: Teleoperated robots are semi-autonomous bots that use a wireless network to enable human control from a safe distance.
Augmenting Robots: Augmenting robots either enhance current human capabilities or replace the capabilities a human may have lost.
Practically Summer Workshop
The exclusive course from Robotics Club, IIT Guwahati will train students in how to build a smart bulb, which can be operated using a mobile application. This robotics workshop for school includes modules on home automation using IoT, hardware components, circuit design, assembly and voice control using Google. The main focus of this course is to understand the architecture of IoT applications and make a working bot. By the end of this course, students will be able to build a smart bulb and understand its applications in various other similar products like a fan, water tap etc. Join this robotics workshop online free of cost to get hands-on knowledge in Robotics, and receive a participation certificate from Robotics Club, IIT Guwahati.
Though relatively young, the robotics industry is filled with promises of progress that were only written about in science fiction stories previously! Robotics courses for kids are a great idea for those parents who want to make their children future-ready. It is a rapidly expanding field that can offer many career paths in the future for beginners in robotics. So enroll now for the Practically Summer Workshop's Robotics course! Limited seats! Hurry! Bring learning (and machines) alive!
#PracticallyApp #BringLearningAlive #LearnPractically #Robotics #RoboticsWorkshop #RoboticsWorkshopOnline #OnlineWorkshop #FreeWorkshop #SummerWorkshop