As we mark a year since the lockdown and reflect on its impact on the education system, we applaud the massive steps taken by all parties towards ensuring continued learning. However, it should be noted that many areas of the system are still facing gaps that are yet to be filled. One such problem has been a comprehensive and robust tool to address the needs of principals, teachers, students, and parents, which is also cost-effective. With blended learning here for the long haul, even post-pandemic, schools and educators must be receptive to and prepared with innovation and instruments that empower them to deliver and supplement teaching to enhance the learning experience. Practically School solution empowers teachers to closely monitor the progress of each student while using immersive learning tools to engage them better. It is currently being used by 15,000 teachers across 200 schools in India and the Middle East to teach over 330,000 students. But what exactly is Practically School Solution?
It is the best free app for online teaching. It enables teachers to take unlimited virtual online classes from anywhere. The solution offers teaching material streamlined by topic and with course material online across STEM subjects for grades 6-12. Here are the key features of the Practically School Solution:
Virtual Classroom Management System is an essential feature of the app. It allows for ease of scheduling and conduct, bringing convenience for teachers and educators and saving on operational time. It grants unlimited Zoom and Google Meet licenses ( be it for it zoom app for online classes, zoom app for teaching, or google meet online classes) so you don't have to worry about running out of free minutes and being interrupted in the middle of lessons! Teachers and students can also go back and refer to recordings if they have missed out on sessions or to revisit concepts. The app enables teachers to connect with students as they would in a real classroom.
With the Practically School Solution, you can get free access to the Exhaustive Content Library and Course Material of 3,000+ videos and 1,000+ simulations & Augmented Reality (AR) covering a universal curriculum and providing experiential learning so that every student benefits from Practically with distraction-free classes that enable over 90% retention of concepts! The Practically School Solution is a self-learning app that includes features such as reports, test-preps, polls, analytics, assigning homework, etc. it empowers the teacher to closely monitor the progress of each student.
Exam prep is the most crucial part of any learning journey. Test preparation online can be a difficult task. Fortunately, our Test Prep And Reports give teachers the freedom to conduct tests chapter or subject-wise with automated test papers and report card generation to help keep track of each student's performance.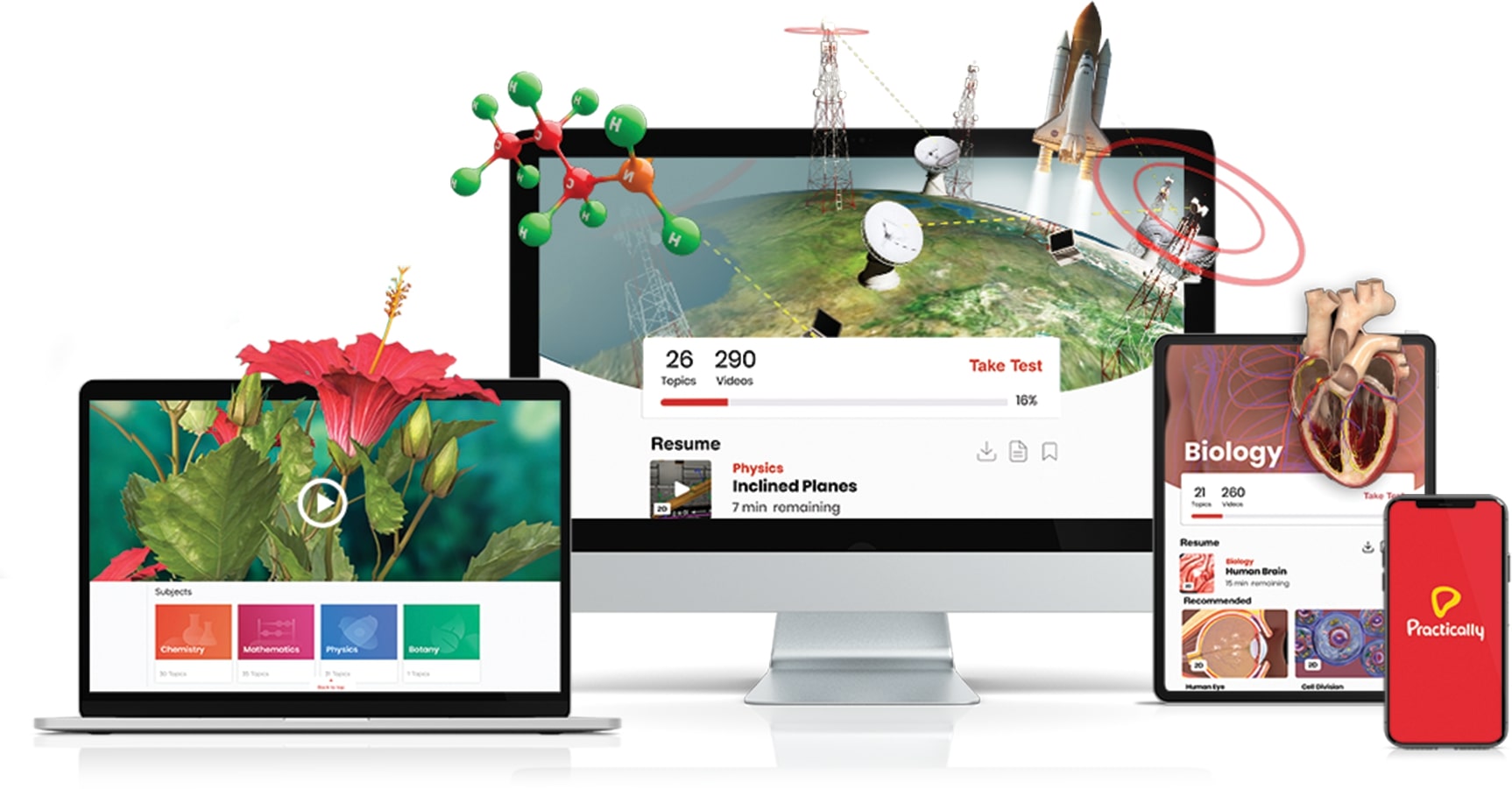 The solution with its Don't Just Learn, Learn Practically approach enhances student engagement in a physical classroom or online. Designed to Bring learning Alive, Practically is the only such app in the world that combines game engine, immersive learning assets, and AI-assisted study buddy in one compact cross-platform app.
Leading schools across the country and abroad have benefited dramatically from Practically's unique experience of School-from-Home. This is what some of the top schools in the country have to say about Practically School Solution:
Mr. Avinash Kosaraju, Director, Dr. KKR Gowtham Group of Schools - "Practically School Solution is absolutely a one-stop-shop. When we started using Practically for Virtual Classroom Management System, our teachers were extremely satisfied with the experience thanks to a number of useful features. Later on, we realized that students were performing better as they found the gamification and AR videos to be so fascinating that they were better able to retain and apply what they studied. Many of them have also gone on to use Practically outside of school hours because parents have found them to be beneficial for after-school learning as well."
Ms. Supriya Jadhav, Vice Principal, Vishwanath Karad, Pune, Latur, and Indore - "Covid hit us hard just like the rest of the world. We had to shut down our campus, and only recently did we reopen. Practically School Solution helped us tide over the challenges we faced in keeping classes going while we all worked and studied from home. The virtual classrooms, with videos and simulations, quizzes, and assessments, encouraged teachers and students alike. Practically's exhaustive content library, scheduling and test prep, etc., were all ready when we started using it, helping us derive value from day one and ensure continuity of lessons."
Sekhar V Das, Chairman, International Delhi Public School, Rajahmundry - "When we shut down our campus in March last year, it was a very challenging time for our staff. Among the many solutions we saw, Practically School Solution immediately caught our attention, and we have now been using it for nine months. The pace with which we were able to onboard and replicate classrooms virtually during the pandemic helped us keep classes going even from home. As students were excited by the videos and simulations, we noticed that they were keen on taking quizzes and assessments to put their learnings to the test! Our teachers were also able to use their exhaustive content library, scheduling, and test prep features with ease. Practically has made our lives a lot easier during this tough time."
With the Practically School Solution, we are aiming to equip teachers with a new-age e-learning solution full of hi-tech, hi-touch features. Learning intertwined with immersive storytelling and real-life examples increase the retention of concepts by over 90 percent after two weeks of learning as compared to about 30 percent using traditional methods of teaching. Virtual classrooms cannot get more appealing; we provide the best learning apps for students.
Thanks to Practically School Solution, teachers have been able to overcome the challenges posed by the pandemic and teach in a more exciting and controlled manner.
#PracticallyApp #PracticallySchoolSolution #LearnPractically #LearningApp #BringLearningAlive #VirtualLearning #VirtualClassrooms #ZoomClasses #ExperientialLearning #OnlineClasses #StudyMaterial #ExamPreparation #Teaching #Teachers