If you didn't make it to Practically Summer Workshop's special and exclusive guest lecture by chess Grandmaster and ex-India chess team captain Vidit Gujrathi on 17th May at 10 am for your online chess training, don't be disappointed. You can check out the full video on the Practically YouTube channel or keep reading for some excerpts from the interesting conversation. Don't just learn, learn Practically!
How did you start playing chess?
It was a complete accident. My parents are doctors and I used to bother them as a child when they were working so they wanted to keep me occupied with some activity. I used to be play sports and I loved playing cricket. I tried to join a club but at 5 I was considered too young and it was risky as I could get injured. So I had to choose between badminton and chess. Since I used to play chess at home, I thought it was a good opportunity to learn to beat my father because I hated losing! And that's how I started playing and I have been playing ever since.
Given that your parents are doctors, and most Indian parents are focused on academic, IIT, JEE etc. how did your parents allow you to take up chess?
I am sure that while most students pursue academics primarily they also have other interests. Parents are apprehensive since they do not know whether pursuing non-academic passions will be a good career choice. My parents were very supportive. My father was okay with me choosing chess as a career while my mother still wanted me to do an MBA after becoming a Grandmaster! It is very deep-rooted in the Indian parents' psychology to pursue academics as it is a safety net.
My advice to students who want to pursue extracurricular activities is to be sincere and show parents that. Once they see it, see how much their child is enjoying it and that it's not just a way to avoid studying, they may be convinced.
What are the educational benefits of playing chess?
Many ways! Chess helped me cope with failures. I used to lose many games and I didn't handle it well but playing chess helped me cope with it better over time. Secondly, it helps you concentrate. It helps you develop the ability to focus. Planning is another skill you pick up playing chess because you anticipate your opponent's moves. In life, you need to plan and prepare, chess can help you do. One of the interesting facts about chess is, over time, if you stick with chess, you can pick up many important life skills.
You have played Carlsen and Vishwanathan Anand. When were you more nervous?
I have played against them multiple times but I don't think I was nervous. When you play with such experts, there is no pressure. If you do well, it's great but if you don't it is expected so there isn't much pressure because nobody expects you to beat them. Though the pressure is when you play against a weaker player. It was exciting to play Carlsen as he is the world champion, it was a great opportunity.
What are your most common opening chess moves?
There is a risky but rewarding move - Sicilian defence. It is one of my favourite openings.
How does one get a FIDE rating?
Playing a FIDE rated tournament will give you a rating by the world chess federation. It ranges from 1000 to 2850.
What is your chess schedule in a day?
When I wake up early and begin with an activity, I find my day goes well. I find that having mornings productive makes a big difference. So in the morning, I try to be productive. After lunch, I try to relax and in the evening I work out. At night, I play some more games and hang out with family. I think having a balanced life is important.
Do you feel nervous when you play chess?
Yes, I still feel nervous. But this is good. It is required to prepare and practice. Just like when we are stressed before exams which pushes us to study. Similarly feeling nervous helps me to put in my best efforts.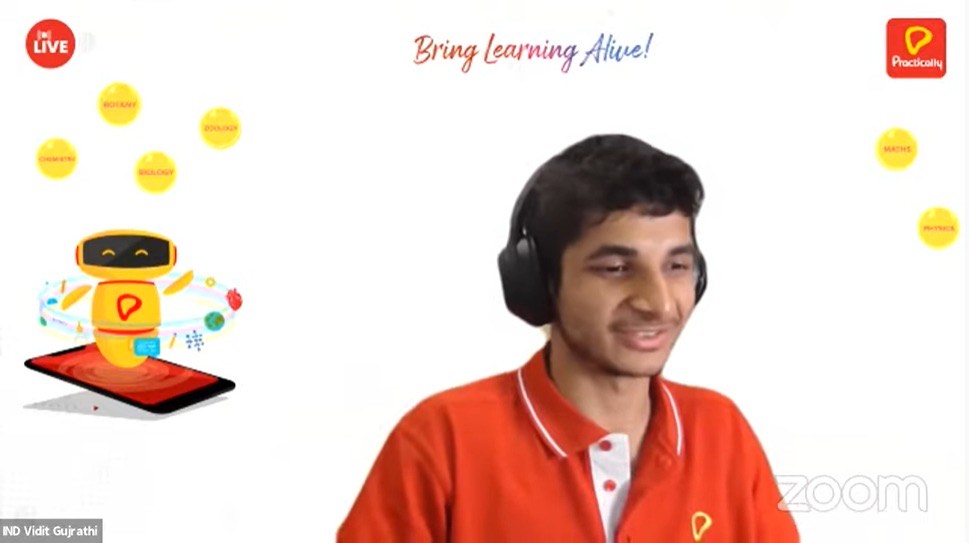 Chess tricks and tips
Don't waste time. Value your time and apply yourself to learning a skill. Use this lockdown to develop some new skill.
Steve Jobs once gave a speech at Stanford University. He did not enjoy studying but he took a course in Calligraphy. Years later when he founded Apple, he applied that skill to create fonts which were a first of a kind innovation which is what made Apple so successful. So the skill wasn't immediately useful but no skill goes to waste.
When you gain expertise, you will be hired and money will come as a result. Don't focus on making money, focus on becoming an expert.
When it comes to chess, I used to solve a lot of puzzles. And I was rewarded every time I solved a 100 correctly. This helps with pattern recognition and when you practice so much, you will automatically know the answer sometimes without even thinking! Secondly, play with someone - a friend or a coach. It helps analyse your game and learn from each other. Today there are so many options to play online. I used to read many chess books as well like that of the Quality chess publisher who has a Grandmaster collection. You can also read Mark Goretsky's book.
Any advice for kids who want to take up chess professionally?
It is important to first know their passions. My desktop wallpaper has a quote which I would like to read out for everyone and this is the advice I follow – Do you want to lose weight? Or start that company? Stop thinking and start doing. And once you start, work hard. Very hard. Very very hard. Forget and give up everything else if you are serious about it. Then all your energy must be devoted to your goal. It sounds harsh but that's the price you have to pay. Remind yourself that the clock is ticking. If you spend time on the things that don't matter, then you won't have time for the things that do matter. Stop dreaming and start walking. Keep walking and your resistance will disappear. As clouds do after a heavy downpour.
Vidit signed off saying he was impressed with those who logged into the session as it was a sign that they are passionate about chess and on the right track. He was appreciative of Practically Summer Workshop which is conducting online chess classes for kids and other courses. He had attended chess sessions as a child where he learnt how to play chess and encouraged kids to make the best of the workshop to improve their skills.
Catch up with the courses by watching the recorded classes on our YouTube channel and enrol for the remaining sessions by downloading the Practically app now. Don't just learn, learn Practically!